Payroll Client/Server Solution


ACTAtek and Thinking Software (www.thinking-software.com) have collaborated to provide businesses a complete HR solution that caters for all workforce management, payroll and security needs.  Using the  ACTAtek SOAP API SDK, Thinking Software integrated their ROTA HORIZON application with the ACTAtek ID Management Platform.

Rota Horizon is an enterprise orientated human resource solution with the aim of lowering payroll costs and better staff efficiency. 
Plan and Manage Employees
Assign employees with unique multiple pay rates, contract rules, holidays plans and many more.
Built in "Employee Year View" provides a overall summary of working time and absence history.
Plan in advance of budget costs and department rota, know who's have planned absences ahead of time to adapt situations quickly.
Rota Horizon's Demand-Scheduling Module allows on demand scheduling allows you to plan your resources efficiently by allocating employees to areas that needs attention most.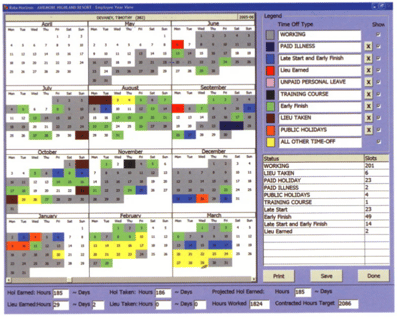 Integration with ACTAtek for Access Control
The Rota Horizon solution can integrate with ACTAtek Access Control solutions to consolidate time and costs to create the complete HR solution for your business.
Time & Attendance Reports – Rota Horizon can quickly automate calculations on employees to ensure they're working within their contracted hours.
Accurate Payroll Cost Forecasts – Real-time link to ACTAtek's Access Control systems allows you to create payroll forecasts in seconds.  
Holiday Planning & Absence Control – Rota Horizon provides a range of tools to efficiently manage holidays and control of absenteeism.
ACTAtek SOAP API technology – Allows seamless compatibility to exchange and transact data from the terminals to Rota Horizon.
Payroll Facilities with Pay-Link
Thinking Software's Pay-Link module allows transfer of Time Attendance and HR data into Payroll programmes allowing administrators to save time and increased accuracy.
Rota Horizon's Pay-Link module allows easy integration with many popular payroll products on the market today.
Thinking Software's MAKE-MY-PAY technology allows up to the minute automatic transfers of payroll and HR data to wherever it needs to go.
Pay-Link can easily import and export employee details to gather all hours worked and current pay rates, saving admin time and increased data accuracy.
Reporting Facilities
Rota Horizon can produce a huge range of clear, concise reports that analyses vital information about your business and the people that work in it.
Rota Horizon's Report Scheduler can be configured to automatically deliver selected reports by email to a list of authorised users.
Range of reports with clear and concise analytical details of business and employee performance.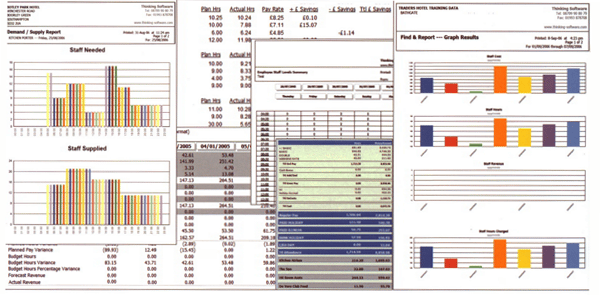 Link to Case Studies
MANSFIELDS (UNITED KINGDOM)
Link to Products
ACTAtek SOAP/ API
Capital and Human Asset Tracking
In 4th quarter of 2011, ACTAtek will introduce its new Asset Tracking solution as part of the extended ACTAtek ID Management Platform.
This new product offering will introduce a tighly integrated software suite that  combines wireless access point, active and passive RFID tags and the ACTAtek biometric/smartcard system to create an intellegent tracking system.
Please bookmark this page for further updates.
Video Surveillance
ACTAtek ID-Video
ID-Video (patent pending) is the next extension in the ACTAtek ID Management Platform offering.  The ACTAtek ID-Video solution integrates biometric authentication with video surveillance – a first in the industry!
The ACTAtek IP cameras are used to provide video surveillance of the doors protected by ACTAtek Units. Each authentication attempt (successful or not) is time-stamped on the video stream. The event log of ID-Video offers an immediate display of the authentication attempt (10 seconds before and 10 seconds after), at the click of a button!
Search by ID, entry door, time, date – many options are available to the security director and HR to ascertain who entered which door when! Tail-gating and other misuse of the authentication systems are captured and immediately available for review.
The following diagram shows how the ID-Video solution, consisting of the ACTAtek ID-Video Suite and a range of HD/IP Cameras, should be used in a security or time attendance application.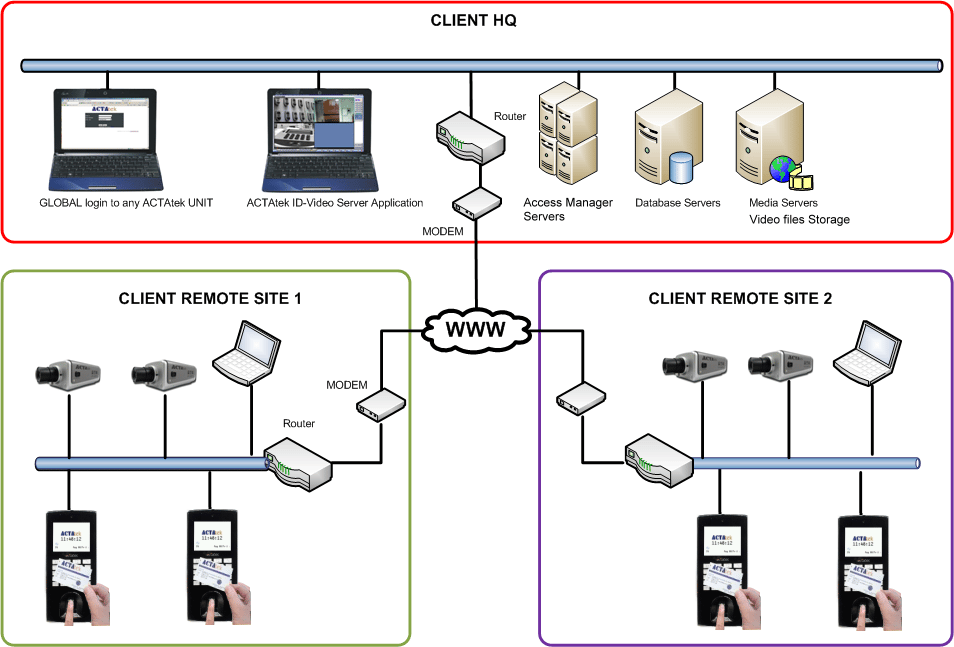 The ACTAtek ID-Video Software Suite offers many features, including the 24/7 video wall, real-time event log updating and 2-D mapping of camera and ACTAtek unit placement.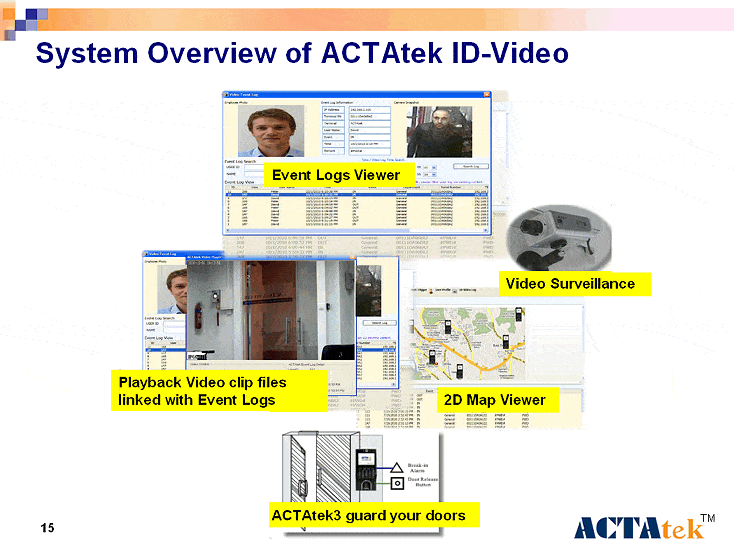 Link to Products
ID-Video Software Suite
ACTAtek Smartcard – MIFARE®
ACTAtek Smartcard – CePAS
ACTAtek Smartcard – EM
ACTAtek Smartcard – HID iClass
ACTAtek Smartcard – HID Proximity
3G GSM / WiFi Gateway Modem
WiFi Adapter/Router
ACTAtek Access Control
Door access is a critical function of all facilities, whether the purpose is security or safety the need to know who is trying to gain entry or exit from a facility is becoming more important in all businesses.
A key element of all authentication solutions is uniqueness – confirming the ID of the person attempting access or exit. Passwords are no longer considered secure – biometric authentication is now a prerequisite of many businesses. If biometric authentication is impractical due to the physical constraints/limitations or individual characteristics, then a record of the access event should be supported and recorded (for future verification when needed) with visual images.
ACTAtek offers a complete solution for access control through a combination of authentication options, software configuration/review and hardware choices to ensure continuous communication and secure operation.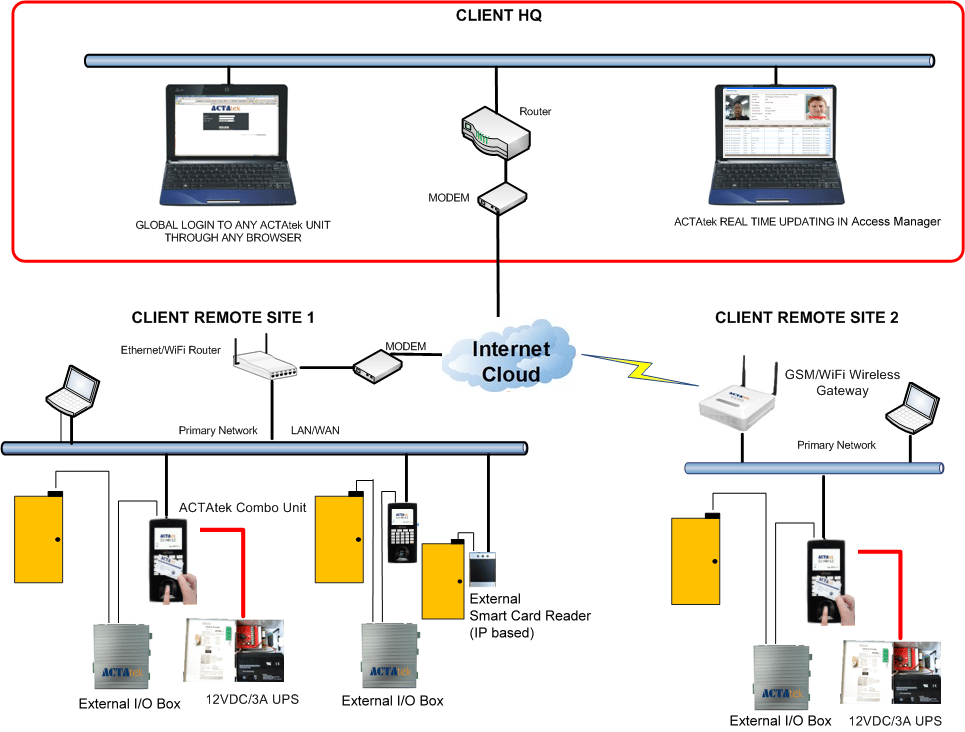 The diagram above shows a complete Access Control solution that uses network/internet connectivity to deliver remote site control, monitoring and reporting. The embedded web-server feature in the ACTAtek unit allows simple browser access to any ACTAtek unit, anywhere in the world. User registration and access rights can be set via the browser or via the client/server application, ACTAtek Access Manager.
ACTAtek provides all the essential control and infrastructure hardware options:
ACTAtek Combo unit
ACTAtek external reader
ACTAtek Secure Relay
ACTAtek UPS
ACTAtek wireless Gateway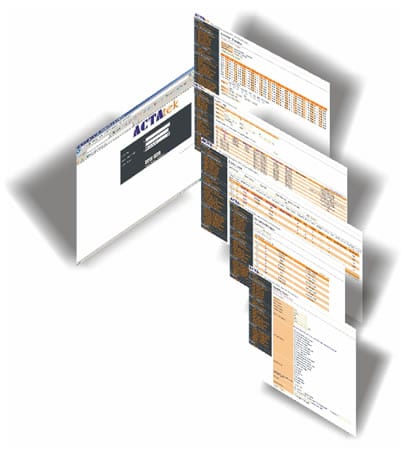 The embedded application feature of the ACTAtek unit provides secure internet access and simple management of the access control system.
Who is IN, who is OUT, which door they used, when – all available via the web browser interface.
Remote door open and data backup/restore operations can also be accessed via the web browser.
Even messages can be left on the ACTAtek unit screen for users – again, set via the web browser!
The ACTAtek Access Manager client-server application can update in real time, updating as and when events happen, or will update at a user defined time.  With a real time monitoring option, ACTAtek Access Manager offers security officers the option to monitor door events, and see the ID and photo of individual who is authenticating.  All records are stored in a user selected database format.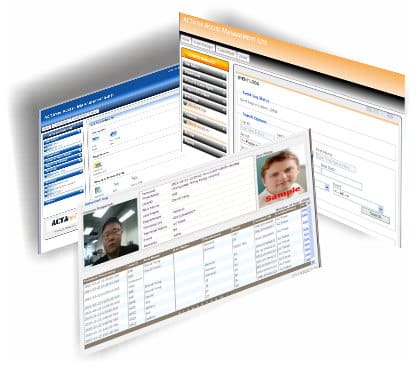 Link to Case Studies
BELIZE NATURAL ENERGY LIMITED
BANK OF EAST ASIA (BEA) MACAU
HONG KONG DRAINAGE SERVICES DEPARTMENT
DAIRY FARM (HONG KONG)
MUIRFIELD CONTRACTS (SCOTLAND, UK)
HANG YICK PROPERTIES MANAGEMENT LIMITED
ONE CENTRAL (MACAU)
NORTH SHORE BANK (USA)
Link to Products
Uninterupted Power Supply (UPS)
ACTAtek Smartcard – MIFARE®
ACTAtek SOAP/ API
ACTAtek Smartcard – CePAS
ACTAtek Smartcard – EM
ACTAtek Smartcard – HID iClass
ACTAtek Smartcard – HID Proximity
Third-Party Integrated Time Attendance Solution

ACTAtek has worked with many third-party Time Attendance software developers thanks to its open development platform. The ACTAtek Access Manager SOAP API SDK (Software Development Kits) allows software vendors to customise and develop enterprise level applications for many vertical markets today.
Many of our software partners use our award winning ACTAtek hardware to cater for the Time Attendance market with features of:
Providing accurate Employee time stamp information in real time.
Software capability to scale with multiple units allowing log information to be exchanged and synchronised between the terminals and the central server.
Optional ACTAtek Middleware integration with third party software allows flexibility to use proven technologies such as ACTAtek Agent to exchange transaction data from the terminals to a PC based server.
ACTAtek Access Manager SOAP API allows developers to customise functions and enhance the capability of the ACTAtek terminals such as rostering and scheduling.
Flexibility to cater software for many input formats such as Smart Cards, Key Tags and Optical Biometric Fingerprint technology that are suited to the customers demands.
Wired and Wireless Networking functionality opens new potential of deployment scalability and accessibility over complex sites.
ACTAtek database exporting facilities allows integration with many popular payroll software to calculate labor costs and work hours.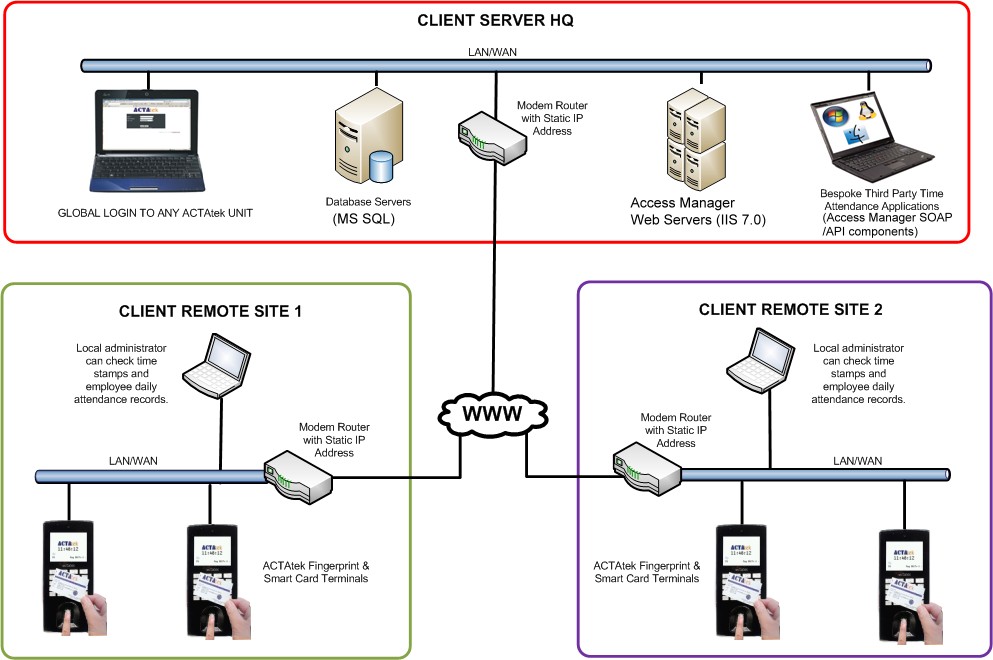 A typical installation diagram shown above is just an example of how software vendors can implement their bespoke Time Attendance solution. Multiple ACTAtek units are deployed with unique IP address to a local network of a remote site. Transaction data is exchanged and synced using either ACTAtek's middleware solutions or the Software vendor's bespoke API based on the ACTAtek Access Manager SOAP API to the central server over the Internet. Information is stored on the HQ server where senior managers and administrators can analyse performance and productivity of each remote site to plan and allocate more resources effectively in the future.
Link to Case Studies
BUKIT PANJANG GOVERNMENT HIGH SCHOOL
VICTORIA EDUCATION (HONG KONG)
HYATT REGENCY HK (DYNASTY CLUB)
OCEAN PARK (HONG KONG)
SHANGHAI XIAO NAN GUO CUISINE RESTAURANT
PACIFIC COFFEE (HONG KONG)
BALI PSYCHIATRIC CENTER DOH (TAIWAN)
CARITAS CARE HOME
KOWLOON HOSPITAL (HONG KONG)
NSGB BANK (EGYPT)
HSBC BANK (EGYPT)
QATAR ISLAMIC BANK (QIB)
Link to Products
ACTAtek Smartcard – MIFARE®
ACTAtek Smartcard – CePAS
ACTAtek Smartcard – EM
ACTAtek Smartcard – HID iClass
ACTAtek Smartcard – HID Proximity
3G GSM / WiFi Gateway Modem
WiFi Adapter/Router
ACTAtek Agent 2
ACTAtek SOAP/ API
Simple Time & Attendance Application
The ACTAtek ID Management Platform provides both the hardware and software features to create simple solutions for Time and Attendance applications. This simple yet powerful client-server time and attendance solution combine the embedded features of the ACTAtek units with the real-time two-way synchronization feature to create a user-friendly web-based application that is used by small and large enterprises alike.


A simple, user-friendly, web-based Time and Attendance solution
Perfect for companies deploying electronic time and attendance for the first time
Fulfills HR requirements for user registration and basic awards
Comprehensive reports
The following diagram illustrates the way this simple Time and Attendance solution provides a powerful network capable of providing real-time information from many remote sites (franchise chains, retail stores, gas stations, etc.) in a format suitable for immediate action by HF/finance, or interfacing (via ACTAtek Manager SOAP API) to your preferred payroll application.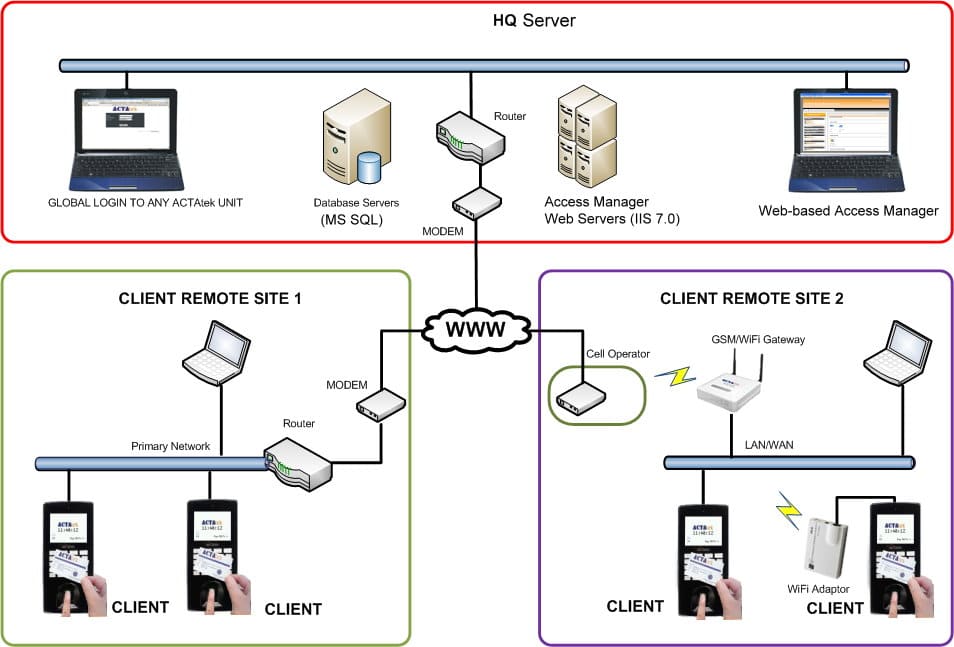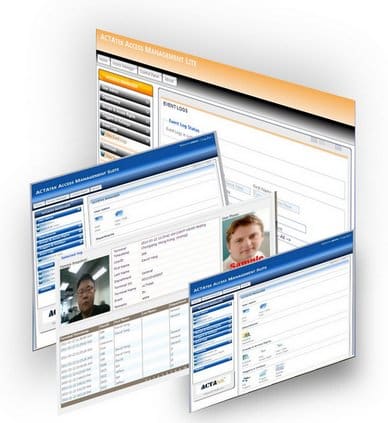 Using the logging options, in ACTAtek Manager allows the user to view the real-time event logs from remote registered terminals.
All data is copied from the registered ACTAtek units to the ACTAtek Access Manager and made available in many report formats.
Images captured from the optional CMOS camera of the ACTAtek unit, are displayed in the event log. If an employee image was inserted when the employee data was entered, the entered image can be compared directly to the camera image – this is a key benefit of the CMOS camera option when using only a Smartcard Unit.
Link to Case Studies
GOVERNMENT OF MACAU
BANK OF EAST ASIA (BEA) MACAU
BELIZE NATURAL ENERGY LIMITED
HONG KONG DRAINAGE SERVICES DEPARTMENT
KEPPEL SHIPYARD PTE LIMITED (SINGAPORE)
SQUARE PHARMACEUTICALS LTD (BANGLADESH)
DAIRY FARM (HONG KONG)
HANG YICK PROPERTIES MANAGEMENT LIMITED
MUIRFIELD CONTRACTS (SCOTLAND, UK)
NORTH SHORE BANK (USA)
Link to Products
ACTAtek Smartcard – MIFARE®
ACTAtek Smartcard – CePAS
ACTAtek Smartcard – EM
ACTAtek Smartcard – HID iClass
ACTAtek Smartcard – HID Proximity
3G GSM / WiFi Gateway Modem
WiFi Adapter/Router
Enterprise-wide solution in Labour Cost Management and Time Attendance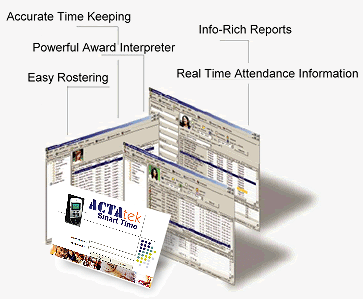 ACTAtek SmartTime
ACTAtek SmartTime is a full-featured enterprise-level Time and Attendance software incorporating labor cost management and job rostering facilities in one solution. ACTAtek Smart Time converts the raw data into useful information for managers to make decisions.
ACTAtek Smart Time has an AWARD INTERPRETER built in. This award interpreter awards the correct pay rules i.e allowances, hours of OT, OT types, work day rules and shift rules so that the worked hours are always given the correct payouts. This award interpreter also does holiday rules, and shift types.
When the roster is generated automatically, the shift patterns all attract different pay rules e.g allowances. In most TA systems this award interpreter is missing. Eventually, the admin user will need to tick off or add the pay rules manually which can be in error due to human interaction.
Reports
Different managers require different reports
HR will require Time Attendance Reports, Leave, and HR Reports
Financial Controllers will require Labour Cost Reports
HR, Financial and Operational managers will require Business Analysis Reports
Each category of reports specifically has its value to the specific user and this is covered by the complex reports of ACTAtek Smart Time.
Timekeeping
ACTAtek Smart Time manages by exception…. it analysis the actual time keeping data vs the plan and prompts 6 exceptions for every employee:-
Match
Incomplete
Absent
Critical
Unknown
Unplanned Overtime
This eliminates the admin user to do a manual analysis of all the time keeping of the employee against his plan roster. Admin user needs to verify, correct, and take action on the exceptions except for MATCH.
ACTAtek Smart Time does all Time Keeping analyses in short steps:-
1. Setting up Database, Award Interpreter (only needs to change when pay rules change)
2. Automatically generates the Roster – Manual edit is also available
3. Authorization of the Time Keeping Reports
4. Reports are automatically generated
This is probably the most efficient way to manage time attendance. It eliminates the unnecessary process associated with manual edits, manual rostering, manual approval, and manual generation of reports.
Link to Products
ACTAtek SmartTime
Web-based Payroll Services

ACTAtek has partnered with Payroll Guardian (www.payrollguardian.com) to provide a complete solution for time and attendance and payroll applications. Using the ACTAtek platform described below, Payroll Guardian has installed this solution with clients in the hospitality, retail, and enterprise vertical markets.
Payroll Guardian is a strong combination of product and service. Utilizing a powerful and proven payroll engine, Guardian combines flexibility and complexity "behind the scenes" so that you enjoy a streamlined product that serves your needs for quick time entry, easy payment processing, and intelligent access to pay information.

Understanding Payroll is also to understanding the diversity in processing requirements across various industries. That's why Guardian can operate payrolls for sawmills or healthcare, municipalities, distributors, hotels, manufacturers, piece work, sales, service, even research organizations, for multiple companies, unions, divisions, branches, and departments, for 50 or 50,000 employees, in Canada or the United States and at a very affordable price.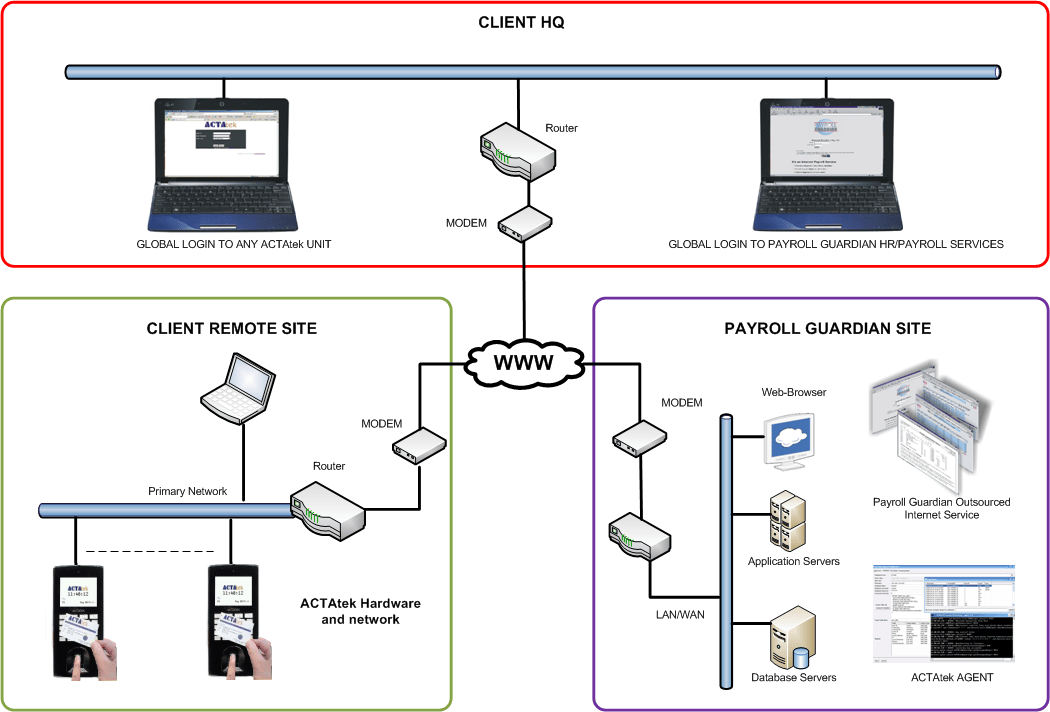 RosterLive(http://rosterlive.com/) is an Australian company that delivers a leading-edge,web-based, workforce management and rostering solution. Companies are able to automate and streamline many labor-intensive processes involved in managing employees, allowing pre-emptive cost avoidance and substantial savings throughout the business.RosterLive is tightly integrated with Actatek terminals allowing clients to capture actual times worked. This allows easy comparison between actual times worked and planned hours in the roster. RosterLive is developed utilizing proven, leading-edge technologies, which many renowned organizations have embraced and are enjoying the benefits of.
More product information can be found at this link.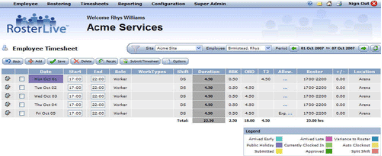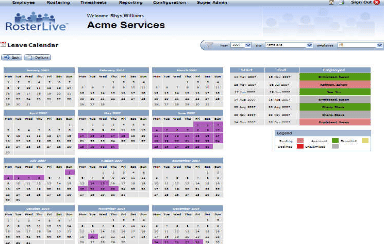 Link to Products
ACTAtek Smartcard – MIFARE®
Smartcard reader – MIFARE®
ACTAtek Agent 2