Door access is a critical function of all facilities, whether the purpose is security or safety the need to know who is trying to gain entry or exit from a facility is becoming more important in all businesses.
A key element of all authentication solutions is uniqueness – confirming the ID of the person attempting access or exit. Passwords are no longer considered secure – biometric authentication is now a prerequisite of many businesses. If biometric authentication is impractical due to the physical constraints/limitations or individual characteristics, then a record of the access event should be supported and recorded (for future verification when needed) with visual images.
ACTAtek offers a complete solution for access control through a combination of authentication options, software configuration/review and hardware choices to ensure continuous communication and secure operation.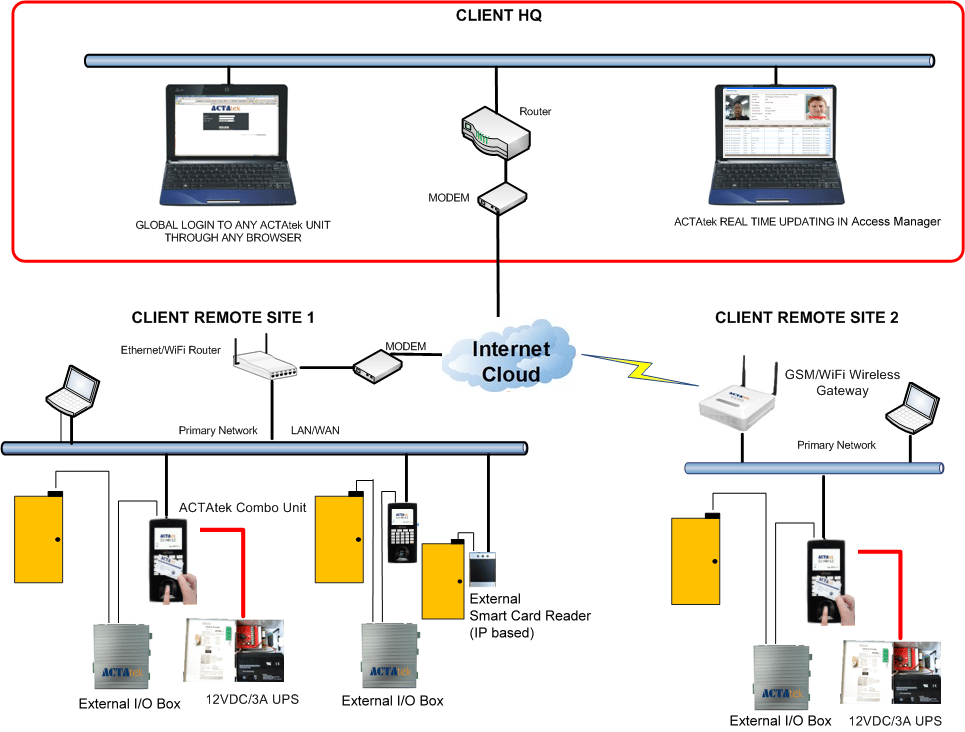 The diagram above shows a complete Access Control solution that uses network/internet connectivity to deliver remote site control, monitoring and reporting. The embedded web-server feature in the ACTAtek unit allows simple browser access to any ACTAtek unit, anywhere in the world. User registration and access rights can be set via the browser or via the client/server application, ACTAtek Access Manager.
ACTAtek provides all the essential control and infrastructure hardware options:
ACTAtek Combo unit
ACTAtek external reader
ACTAtek Secure Relay
ACTAtek UPS
ACTAtek wireless Gateway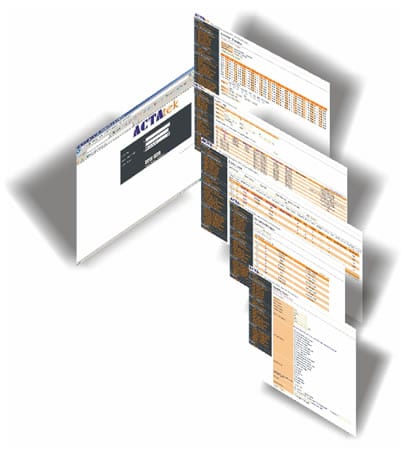 The embedded application feature of the ACTAtek unit provides secure internet access and simple management of the access control system.
Who is IN, who is OUT, which door they used, when – all available via the web browser interface.
Remote door open and data backup/restore operations can also be accessed via the web browser.
Even messages can be left on the ACTAtek unit screen for users – again, set via the web browser!
The ACTAtek Access Manager client-server application can update in real time, updating as and when events happen, or will update at a user defined time.  With a real time monitoring option, ACTAtek Access Manager offers security officers the option to monitor door events, and see the ID and photo of individual who is authenticating.  All records are stored in a user selected database format.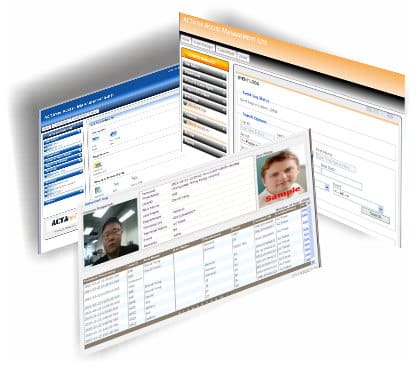 Link to Case Studies
BELIZE NATURAL ENERGY LIMITED
BANK OF EAST ASIA (BEA) MACAU
HONG KONG DRAINAGE SERVICES DEPARTMENT
DAIRY FARM (HONG KONG)
MUIRFIELD CONTRACTS (SCOTLAND, UK)
HANG YICK PROPERTIES MANAGEMENT LIMITED
ONE CENTRAL (MACAU)
NORTH SHORE BANK (USA)
Link to Products
Uninterupted Power Supply (UPS)
ACTAtek Smartcard – MIFARE®
ACTAtek SOAP/ API
ACTAtek Smartcard – CePAS
ACTAtek Smartcard – EM
ACTAtek Smartcard – HID iClass
ACTAtek Smartcard – HID Proximity