The biometrics unit comes with either fingerprint or facial recognition or both. One can also add the following built-in options: RFID reader, POE, WiFi, Barcode, QR code, CMOS camera, IP Intercom, GPS, and 3G module.
The device is encrypted with the latest encryption protocol, currently TLS1.3 with 256-bit encryption. All devices can be accessed and controlled using any web browser just like Internet banking!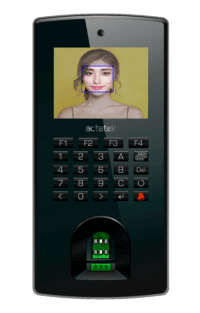 Embedded Web server for easy access via any browser
Encrypted network communication (TLS1.3 with 256-bit encryption)
Optional built-in CMOS/Video camera for Video Surveillance( system diagram)
The fingerprint sensor is made of vandal-proof hardened crown glass with 500dpi resolution. With facial recognition, a picture of the user is also taken as part of the event log.
Both fingerprint and facial recognition have optional live detection. It can support a maximum of 250,000 users and a maximum of 10 million event logs (depending upon the model).
Improve your business security and efficiency with the ACTA series of Biometrics, RFID, and IoT solutions: the best option for your offices and facilities. Improve your business security and efficiency with the ACTA series of Biometrics, RFID, and IoT solutions: the best option for your offices and facilities.
User-friendly, just like Internet banking, use any web browser on your PC, laptop, and mobile phone to access and manage all the applications. It is technology-proof with users, features and functions upgrade via software patches.
The device is protected by the latest TLS 1.3 256-bit encryption and continuous upgrade to protect your network. With optional PoE built-in, just a single CAT5-6 cable can deliver all the needs for the device as well as to the door strike. Coupled with online maintenance giving you tremendous savings on cabling costs, remote on-site maintenance, and travel expenses!
Easy to scale: you can install one today and thousands of units tomorrow! Simply plug and play on your network. The IP65 rating allows all-weather installations.
Following built-in options are available:
IP Intercom: allows communications with any visitors at the door
Wi-Fi -GSM/3G module for remote and mobile Internet connections (Q2 2019)
GPS for tracking of the device (Q2 2019)
Model:
Facial
Fingerprint
Smartcard
Fingerprint + Smartcard
Keypad
Fingerprint Enrollment
Optional
Optional
Optional
Built-in smartcard reader
Optional
Optional
Optional
Face enrollment with video camera
Optional
Optional
Optional
Optional
Live detection
Optional for Fingerprint & Facial Recognition
Built-in web and database server
Number of users
Basic 1,000 users can be upgrade to 100,000+
Max. transaction records stored
(*depending on the model, on request only)
1,000,000 logs/20,000 images
Static IP address assignment
Dynamic IP address assignment
Power Over Ethernet (Built-in)
Optional(IEEE 802.3af standards)
Resolution of LCD
2.8″ 64K/256K Color TFT Screen 320 x 240 Pixel Resolution
Non-volatile memory
4 GB
Computer OS support (with Internet browser)

| | |
| --- | --- |
| Mac OS | Android |
| Windows OS | Linux PC |
| iPhone OS | |
| Unix Machine | |

Valid characters of employee ID
0-9, A-C (max. 16 characters)
Programmable function keys support
F1, F2, F3, F4
Authentication time
< 1 second
FingerPrint Users capacity
250,000(1:1)/20,000(1:N)
Face Users capacity
50,000(1:1)/50,000(1:N)
Alert
By Email and SMS, LCD Message Displayed
Database interface support
ODBC/JDBC
Encryption
AES 256-Bit (Continuous Upgrade)
Multi-lingual support
Basic 1,000 users can be upgrade to 100,000+
Network interface (Built-in)
– 1,000 Base T Ethernet (Built-in)/SNMP support
– WiFi IEEE 802.11 a/b/g/n/ac with 2.4G/5G
I/O Interface
– RS-232/RS-485
– Wiegand output (26bit)
– Power to strike, 12V DC at Max 500mA
Export Report
CSV/Text file
Remote Control
Operation Temperature
-20 Degree C to 60 Degree C
Modules
CPU/Fingerprint
Mifare/Desfire
HID Proximity
HID iClass/FeliCa
EM
CEPAS Card(Singapore)
CMOS/Video camera(Optional)
RFID Card
13.56 MHz
ISO14443A/B
ISO15693
125kHz
13.56MHz
Colour LCD & Keypad
POE
WiFi
GSM/3G
Modes of Authentication
Fingerprint, Facial, Smartcard, PINID + Fingerprint, Facial + Fingerprint
Smartcard + Fingerprint, Smartcard + FacialSmartcard + PIN
Mobile
Optional Mobile Battery
Relay/Doorbell Support
1 Relay/1 Doorbell
IP Intercom (Built-in)
Optional (SIP-enabled VoIP Intercom)
GPS/GSM/3G Module (Built-in)
Optional
Standards (FingerPrint/Facial)
FingerPrint: ISO 19794-2 template, ANSI/INCITS 378 template MINEX III PIV Level 2 Compliant, FBI Certified WSQ, STQC, ISO 19794-4 image
Facial: Facial quailty: ISO/IEC 19794-5-2006, Image(FFI):ISO/IEC 19794-5
Safety standard/Casing
CE, FCC
IP65-Fluid Ingress, Dust, Salt, Fog Protection
Software Support
Agent2 (Standalone Mode) / Access Manager Suite** (Client-Server Mode)
** Access Manager Suite
Software Requirements

Windows 10 or Sever 2012 above version
Microsoft SQL Server for Database Server, SQL Server 2008 or above version
Microsoft .NET 3.5 Runtime

Hardware Requirements

CPU: Intel Core 2 Duo 2.6 GHz or Higher
Memory: 4 GB
Storage: 20 GB Free
Ethernet: 100 Base-T

(Note: Access Manager – SOAP/API will be provided for 3rd party integration
ACTA series IoT devices – Options for additional functionality
External I/O board: can be installed/hidden inside the secure premises ensuring no direct access to door strike connections.
Power Over Ethernet (PoE) splitter: to provide the unit with a 12V supply from Ethernet that has PoE capability.
Mobile Battery Kit: IP67 case and battery to power one ACTAtek in mobile applications.
3G GSM / WiFi Gateway Modem. To provide cellular data connection in remote locations. Also offers a WiFi gateway.
UPS: a 12VDC/3A battery supply to maintain AC and TA integrity during power outages.