ACTA-KTG-1003-UHF   UHF Combo Card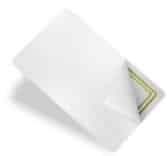 ACTA-KTG-1003-UHF is compliant  with ISO18000-6C  (EPC Class 1 GEN2) standard. Professional antenna design achieves high gain, high sensitivity and farther read range.
The size of it is designed to be the same as a typical access card (85.6mm x 54mm x 0.8mm),In addition to the UHF band antenna design, it is coupled with the design of HF band antenna, which is particularly suitable for applications related to ACTAtek access control.
860MHz~960MHz and 13.56MHz
ISO1800-6C(EPC Class 1 GEN2)
The size of it is designed to be the same as a typical access card (85.6mm x 54mm x 0.8mm)
suitable for applications related to the access control.
Contains high-gain antenna, offering a read range of more than 8 meters
Operating Mode                      Passive
Wet Inlay Dimension               85.6 x 54 x0.8 (mm) R=3mm
ESD (HBM)                                 2000V
Material Compatibility               Depend Reader Design
Storage Temperature               -25 to 50℃ Non-condensing
Operating Temperature            -15 to 40℃ Non-condensing
Compliance Standard            UHF:EPC Class1 Gen2
                                                     H  F:ISO 14443A
Operatung Frequency             H  F:13.56MHz
                                                    UHF:860-960MHz
Memory:
             EPC                96-EPC Bits,extensible to kill Passwords
             EPC                32 Bits Access and 32 Bit kill Passwords