ACTA-KTG-1004-UHF      UHF Vehicle Tag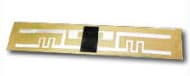 ACTA-KTG-1004-UHF   is compliantwith ISO18000-6C (EPC Class 1 GEN2) standard. Professional antenna design achieves  high gain, high sensitivity and farther read range.
With anti-metal design and other special design to overcome various environmental changes,  ACTA-KTG-1004-UHF  is heatproof, cold resistant, waterproof, shockproof, and anti-glare interference, making it suitable for use in a variety of different metal automatic identification objects.
860MHz~960MHz
ISO1800-6C(EPC Class 1 GEN2)
Contains high-gain antenna, offering a read range of more than 8 meters
Heatproof, cold resistant, waterproof, shockproof, and anti-glare interference
Suitable for access control in outdoor environment
Compliance Standard            EPC Class1 Gen2
Operatung Frequency             860-960MHz
Operating Mode                      Passive
Wet Inlay Dimension              97 x 12 (mm)
Chip IC type                             Alien H3
ESD (HBM)                             2000V
Material Compatibility           Optimized for plastic
Storage Temperature              -40 to 100℃ Non-condensing
Operating Temperature            -40 to 85℃ Non-condensing
Memory:
                                                  EPC                 96 bit
                                                   T I D                 64 bit