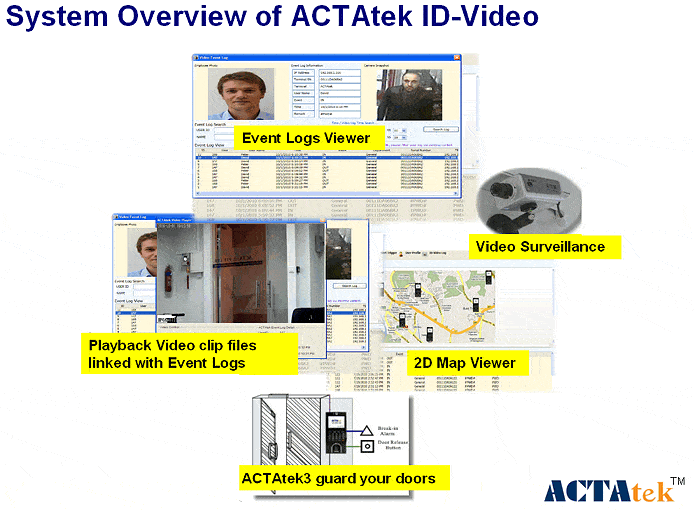 ACTAtek ID-Video Software Suite
The video surveillance market has many products available that monitor, capture and analyze video streams. ACTAtek takes this one step further by integrating the biometric authentication event with the video stream.
The ID-Video Software Suite has several components:
System setup – basic requirements such as identifying and binding the ACTAtek units with the HD IP Camera, database initializing and video storage options.
Video surveillance – basic functions of simultaneous viewing of multiple IP cameras, and manual recording of the video stream.
ACTAtek Map – a 2-D mapping capability (users supplied map image of camera/ACTAtek locations) that allows placement of all camera and ACTAtek icons.  The icons then become "live" allowing any camera to be viewed, or ACTAtek unit event log to be viewed by selection of the icon.
ACTAtek real time event log – This is the heart of the software.  Authentication events are time-stamped to the video stream and highlighted in the event log table, in real time.
When a user initiates an authentication from any ACTAtek unit (fingerprint, RFID smartcard or PIN) in the network, the video stream from the ACTAtek camera is time-stamped.  The result is an application that shows the ACTAtek event log, CMOS camera image and a selectable video option to see the authentication event.(eg.10 seconds before and after, this period could be user specified ). Searches can be performed for specific ACTAtek units, ID logs, individuals, specific days, time and so on – a powerful tool for security directors!
These features allow Security Directors to review potential "tail-gating" where one authentication and door open event results in multiple entry.
Tightly integrates with ACTAtek's award winning ID Management Platform.
Combines benefits of Access Control, Time Attendance and Video Monitoring in one solution.
IP Web Based Technology allows surveillance from any location in the World with WAN connection.
Easy upgrade to any exisitng ACTAtek installation!