ACTAtek Magnetic Strip Reader is a contact card solution using magnetic card technology which can had been successfully integrated with ACTAtek Unit to provide the user another option without changing the existing contact card.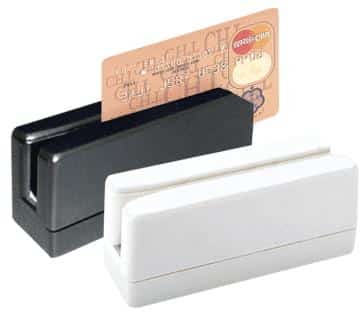 When you are limited in space, this small magnetic strip reader is an ideal solution which is well designed with badge length 90mm and also conform with ISO 7810-7813,JISII standards. This magnetic stripe reader is also perfectly compatible with variety of bar code types. Through the RS232 interface, it works perfectly with ACTAtek device to read the contact card. Price/performance is great with a life-cycle of up to 1,000,000 passes and a scan rate up to 1,000 mm per second.
Track read: ISO 1,2,3 (ATA, ABA, THRIFT/MINTS)
Triple track, 1st, 2nd & 3rd tracks
RS232 interface (Black) connected to ACTAtek device
Record density of up to 210BPI
Capacity of up to 107 characters 5 bits/character
Cable: straight 5ft
Weight Approx 220g/150g
Operating Voltage DC 5V ±5%

Power Consumption 65mA

Scan Rate 100~1000mm per second

Track Information Tripe Tracks (1&2&3 Tracks)

Interface RS232

Life Cycle 300,000passes(1,000,000 passes is optional)

Dimention (mm) 90x29x36 mm

Weight (g) Approx. 150g

Color Black

Read/Write Read(High/Low Coercive)
Below is the sample diagram about how Magnetic Strip Reader can work with ACTAtek device..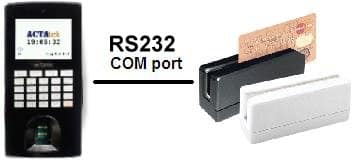 Simple 1-2-3 step:
Step1. Login to device's console menu to add Smart Card User.
Step2.Swap the Magnetic Strip  card
Step3.Add Smart Card User successfully