ACTA-D390-UHF           Stationary long range reader (High Sensitivity )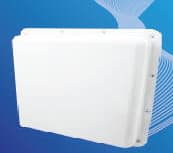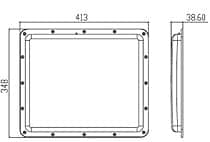 ACTA-D390-UHF   A high-performance, high sensitivity UHF RFID reader with integrated installation, it is innovative, strong and durable, and provides the best signal coverage and read rates, applicable to any environment. With built-in antenna of 11dBi broadside gain and 24.9dBm RF modules, it is suitable for security control, and can be combined with applications and products such as power locks .
Maximum power output is 24.9dBm (adjustable)
Electronic tag compliant with EPC Gen (ISO18000-6C) standard
Supports antennas of 11dBi gain; has a read range of over 10 meters
Developed patented design to reduce EMI radiation
Supports data output via communication interfaces including RS485
Allowed to operate in long-range dense-reader mode, compatible with Gen 2 standard
Automatic matching of output impedance of the antenna impedance
Adopts a lookup table method to achieve frequency hopping spread spectrum
Operating Voltage                  12V
Antenna Gain                          11 dbi
Antenna Connection              50 ohm U.FL.
Transmitting Power                 24.9 dBm (Adjustable)
Communication                       RS485
Operating Frequency             902-928 MHz
Supported Transponders       EPC Gen2(ISO 18000-6C)
Modulation                                PR-ASK,ASK
Current Consumption              < 1A
Temperature Range                 Operating -20C to +55C, Storage -20C to +85C
Receiving sensitivity                -85 dBm
Reading range (Avg.)               > 15M
Dimension( L x W x H )            413 x 348 x 38.6 mm
Relative Humidity                     5-90%
Ingress Protection                    IPX6