ACTA-D190-UHF Stationary long range reader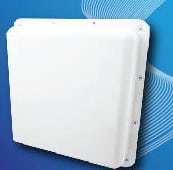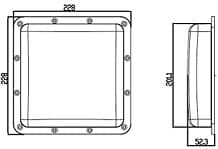 ACTA-D190-UHF has a built-in high sensitivity 8dbi antenna, and by using an RS485 serial communication interface bits interface to work with ACTAtek3 device, it can remotely connect and communicate with terminal equipment.
In addition, the design also helps to reduce power consumption and save energy, which is compliant to the trend of environmental protection and carbon reduction. It can also be applied to parking lot management and security control, and other relevant management.
FCC ID:2ADGD-SRFC190US
Electronic tag compliant with EPC Gen (ISO18000-6C) standard
Maximum power output is 27.9dBm (adjustable)
Supports antennas of 8dBi gain; has a read range of over 10 meters
Developed patented design to reduce EMI radiation
Allowed to operate in long-range dense-reader mode, compatible with Gen 2 standard
Automatic matching of output impedance of the antenna impedance
Adopts a lookup table method to achieve frequency hopping spread spectrum
Operating Voltage                  12V
Antenna Gain                          8 dbi
Antenna Connection              50 ohm U.FL.
Transmitting Power                27.9 dBm (Adjustable)
Communication                      RS485
Operating Frequency             902-928 MHz
Supported Transponders      EPC Gen2(ISO 18000-6C)
Modulation                               PR-ASK,ASK
Current Consumption              < 1A
Temperature Range                 Operating -20C to +55C, Storage -20C to +85C
Receiving sensitivity                -85 dBm
Reading range (Avg.)               > 10M
Dimension( L x W x H )           228 x 228 x 52.3 mm
Relative Humidity                    5-90%
Ingress Protection                   IPX6