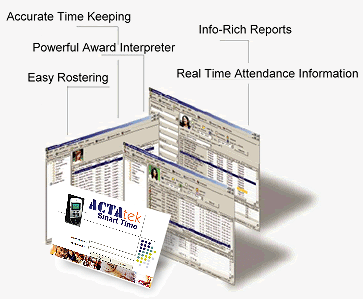 ACTAtek SmartTime
ACTAtek SmartTime is a full-featured enterprise-level Time and Attendance software incorporating labor cost management and job rostering facilities in one solution. ACTAtek Smart Time converts the raw data into useful information for managers to make decisions.
ACTAtek Smart Time has an AWARD INTERPRETER built in. This award interpreter awards the correct pay rules i.e allowances, hours of OT, OT types, work day rules and shift rules so that the worked hours are always given the correct payouts. This award interpreter also does holiday rules, and shift types.
When the roster is generated automatically, the shift patterns all attract different pay rules e.g allowances. In most TA systems this award interpreter is missing. Eventually, the admin user will need to tick off or add the pay rules manually which can be in error due to human interaction.
Reports
Different managers require different reports
HR will require Time Attendance Reports, Leave, and HR Reports
Financial Controllers will require Labour Cost Reports
HR, Financial and Operational managers will require Business Analysis Reports
Each category of reports specifically has its value to the specific user and this is covered by the complex reports of ACTAtek Smart Time.
Timekeeping
ACTAtek Smart Time manages by exception…. it analysis the actual time keeping data vs the plan and prompts 6 exceptions for every employee:-
Match
Incomplete
Absent
Critical
Unknown
Unplanned Overtime
This eliminates the admin user to do a manual analysis of all the time keeping of the employee against his plan roster. Admin user needs to verify, correct, and take action on the exceptions except for MATCH.
ACTAtek Smart Time does all Time Keeping analyses in short steps:-
1. Setting up Database, Award Interpreter (only needs to change when pay rules change)
2. Automatically generates the Roster – Manual edit is also available
3. Authorization of the Time Keeping Reports
4. Reports are automatically generated
This is probably the most efficient way to manage time attendance. It eliminates the unnecessary process associated with manual edits, manual rostering, manual approval, and manual generation of reports.
Link to Products
ACTAtek SmartTime