Founded in 1988, Muirfield is an established and successful building contractor in Scotland, United Kingdom. Currently they're building a school (Kingspark School) in Dundee, Scotland.
ACTAtek helped provided Muirfield Contracts the following solution:
Around 200 employees are contracted to construct the school.
Muirfield required a robust and reliable Time Attendance and Access Control system to manage their employee's attendance as well as providing a safe environment by preventing unauthorised trespassers accessing the construction site.
2x ACTAtek Fingerprint Model (ACTA-1K-FP) was chosen for the site.
ACTAtek units uses built in relays which controls the HEET turnstiles to access the site.
ACTAtek units are IP 65 Certified certification for resistance of environmental elements for outdoor installation.
Biometric Fingerprint technology prevents problems of "Buddy Punching" where employees may pass on their ID's to clock in despite not being present on the site.
ACTAtek TA software deployed allowed senior managers to quickly analyse employee's attendance records and punctuality as well as and generating reports from the terminal.
Muirfield did initially ran into some problems with the installation in the early phase. But this was quickly resolved by ACTAtek's dedicated technical support team by providing an engineer onsite to quickly troubleshoot the misplaced wiring to correct the fault. He also provided advice on best practices to use the ACTAtek efficiently.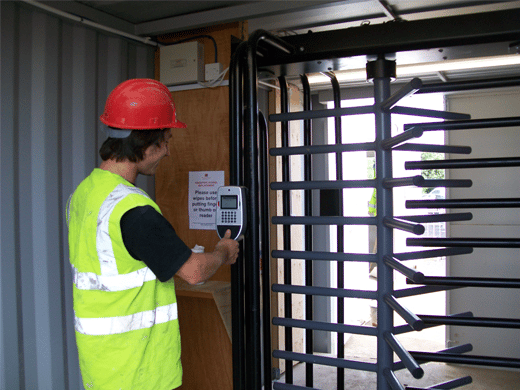 Muirfield was impressed by the features that the ACTAtek Fingerprint Model & ACTAtek TA solution provided and have praised the dedicated support team to help them on their enquiries, which lead them to highly recommend ACTAtek for cleints that work in similar industries.
Link to Solutions
Simple Time & Attendance Application
ACTAtek Access Control