Our ACTAtek terminals can now support "Power Over Ethernet" to power the unit with a single network cable (Rj-45). Ideal for situations where it is difficult to locate a standard power source.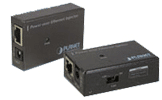 The PoE product includes two units: an Injector and a Splitter. An Injector inserts current into the unused wires in a standard network cable (pins: 4, 5, 7 and 8) allowing the cable between the Injector and the Splitter to transfer power and network signals simultaneously. The maximum distance between the Injector and Splitter can reach 100m/328ft, as defined by the IEEE 802.3 standard.(See the Solution Options.)
By eliminating the need for power cords, PoE has following benefits:
The cost of deploying PoE is much lower than a traditional electrical circuit.
The system designer has more flexibility to locate network devices. Independence from power outlets makes it easier to relocate devices or obtain the best performance, e,g: fine-tuning the RF coverage of an AP.
Steady Wireless LAN connectivity
PoE allows a Wireless Access Point to be placed close to the antenna, thus avoiding signal loss over antenna cable.
 Provides low-voltage DC power over existing RJ-45 cabling to a device with an Ethernet port
 Distance up to 100 meters
 Protects devices from possible damages due to power-surges
 Work with EIA568, category 5, 4-pair cables for 10Base-T or 100Base-TX
| | |
| --- | --- |
| Category 5 pin power usage | -: Pin 4, 5 +:Pin 7, 8 |
| Output voltage, current | POE-100S-12V: DC 12V, 1A |
| Ethernet connector | RJ-45 |
| Ethernet data rate | 10/100Mbps |
| Number of devices that can be powered | 1 |
| Ethernet data cable | TIA/EIA-568, Category 5/5e cable |
| Dimensions (W x D x H) | 64.5 x 42.3 x 20.4 mm |
| Emission | FCC class B, CE-mark |

PoE Package List including:
1.AC-DC Adapter (15V OUTPUT,1A) x 1  connect to Injector
2.Injector x 1
3.Splitter x 1
4.Different size of Power Cable x 3   support connecting to ACTAtek
6.RJ-45 x 1
7.User Manual